Who are we ?


25 years of Service experience

We are a team of more than 20 years' experience in the EMI and Thermal Management. From our French offices, we design and manufacture innovative products in both areas. Specializing in polymers and metals, we combine these materials and adapt manufacturing processes to offer new components, new products, new solutions:

WHAT YOU NEED.
Our fields of Actions


A full offer
Restart animation
Discover the animated video of our offer.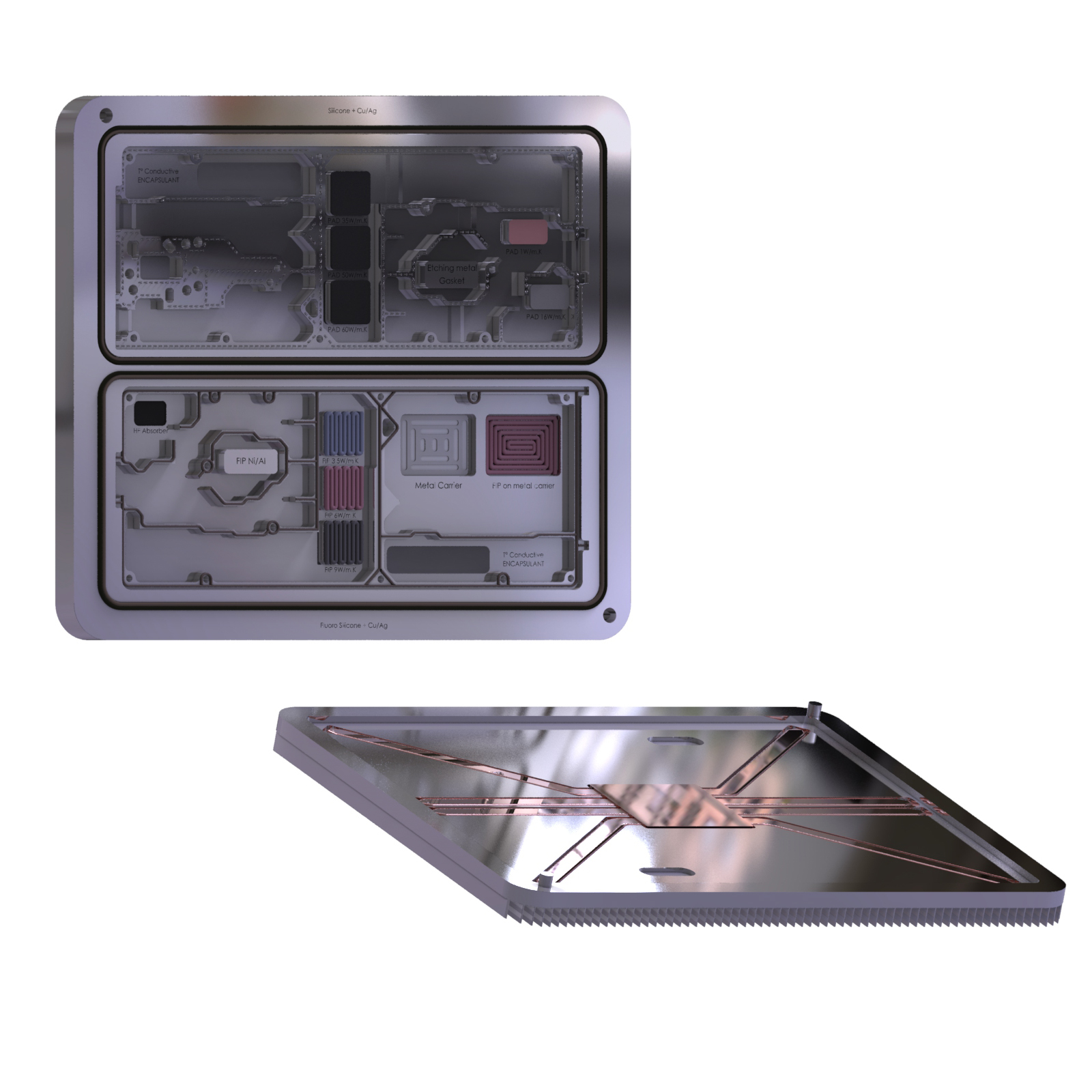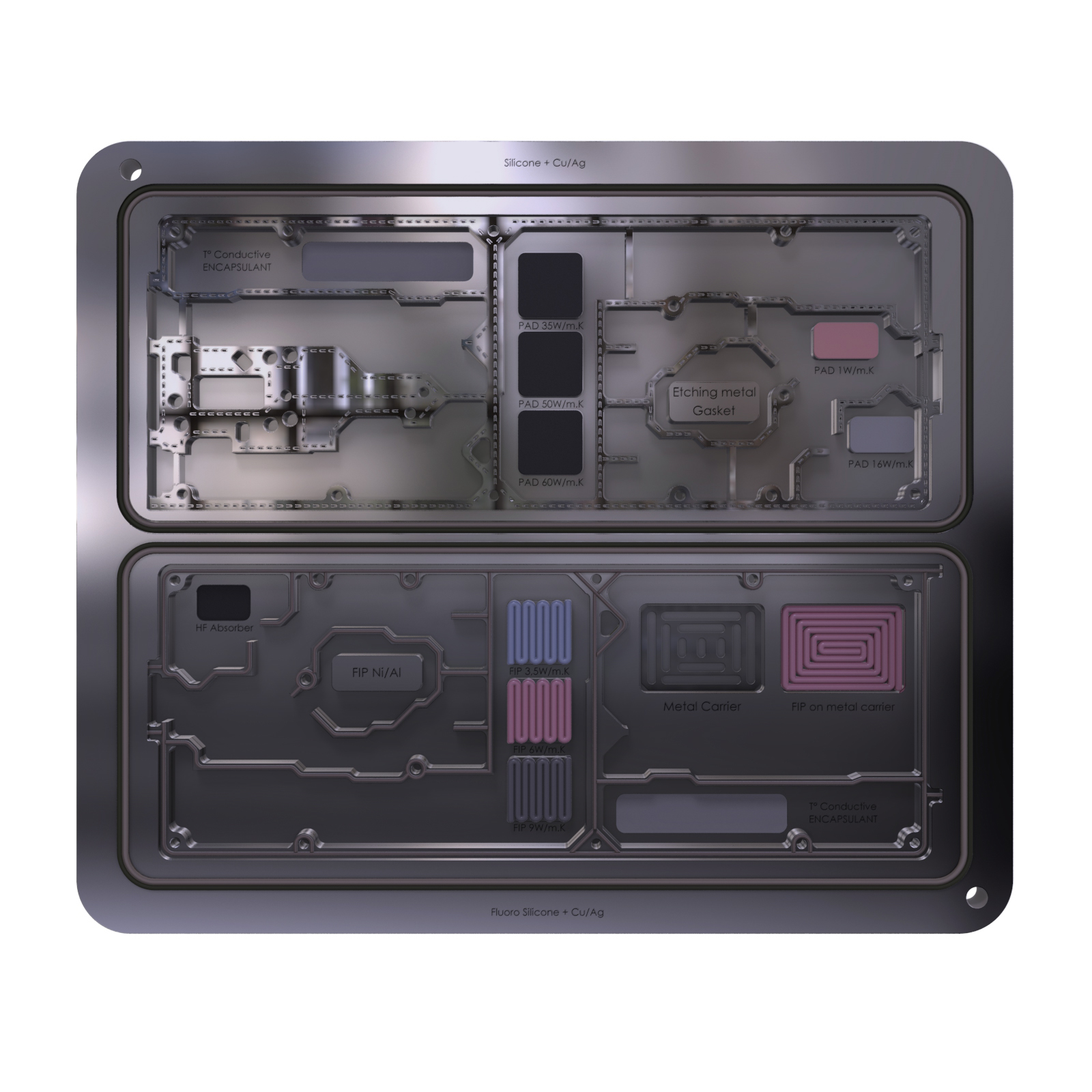 FULL OFFER
Our products and solutions cover the fields of EMI and Thermal Management. Our offer was expanded and increased in performance through the customer projects we have handled. This broad spectrum of solutions allows us to work in collaboration with our customers to identify with them the technical solutions that is innovative and the most adapted to their problems. We also develop sub-assemblies to simplify their flow and assembly costs.
Tell us about your project!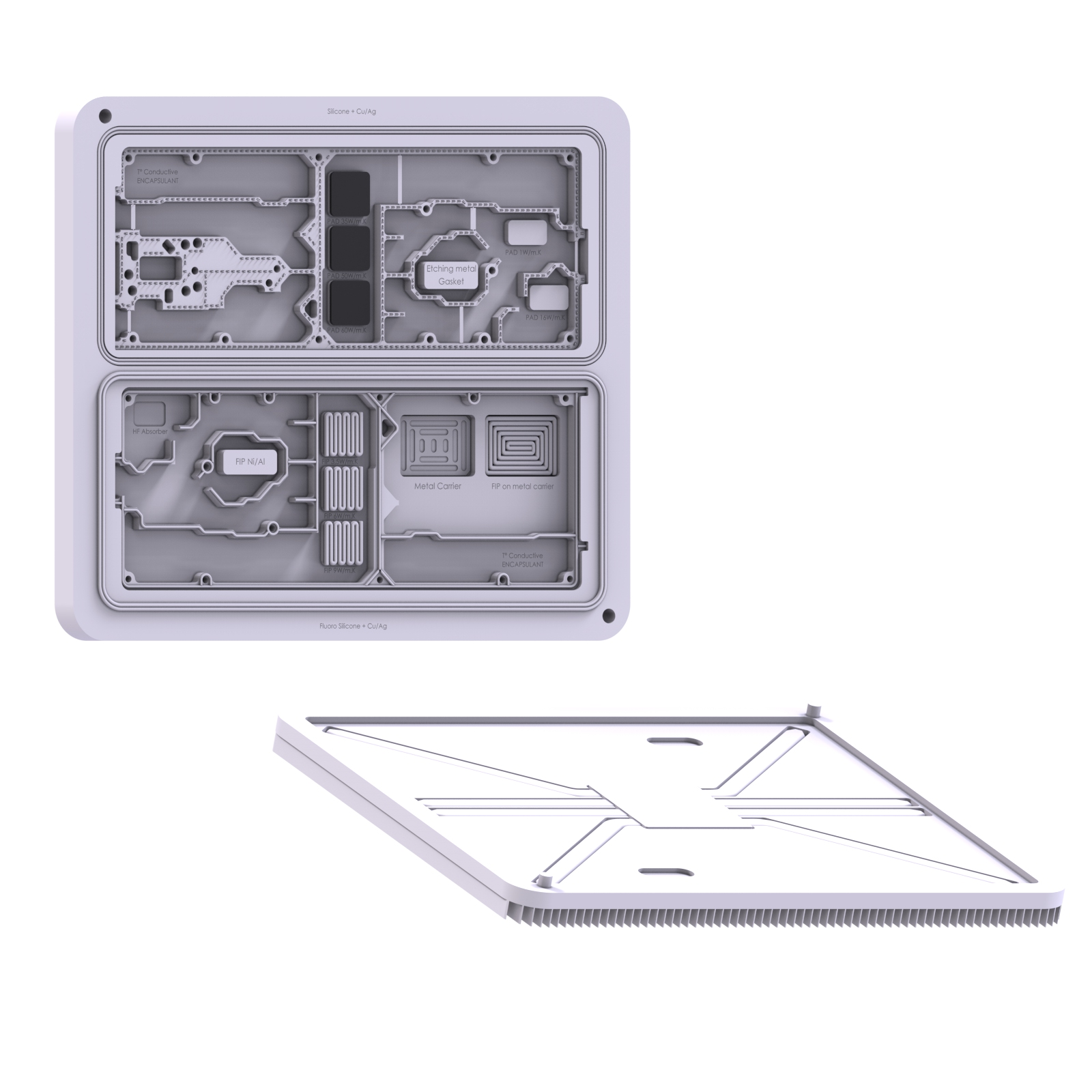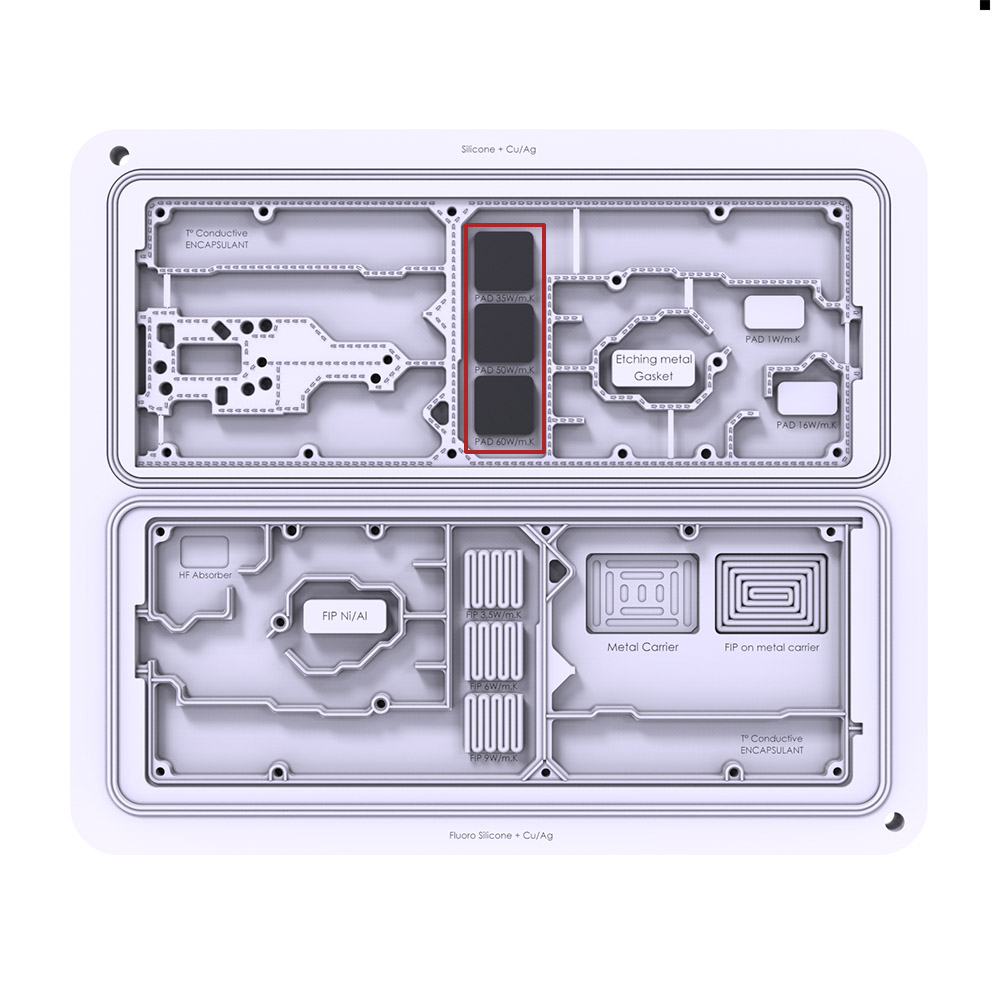 PREMIUM THERMAL PAD
Thermal conductivity: From 35 to 60W/mK
Hardness: From 20 to 50 Shore A
The DG-PTP  is a silicone-based heat dissipating material loaded with carbon fibers aligned with each other. This material reveals a thermal conductivity of up to 60W/mK at only 10% compression.
DG-PTP is also electrically conductive.
We produce cut pieces according to your drawings to integrate perfectly with your design.
Consult us !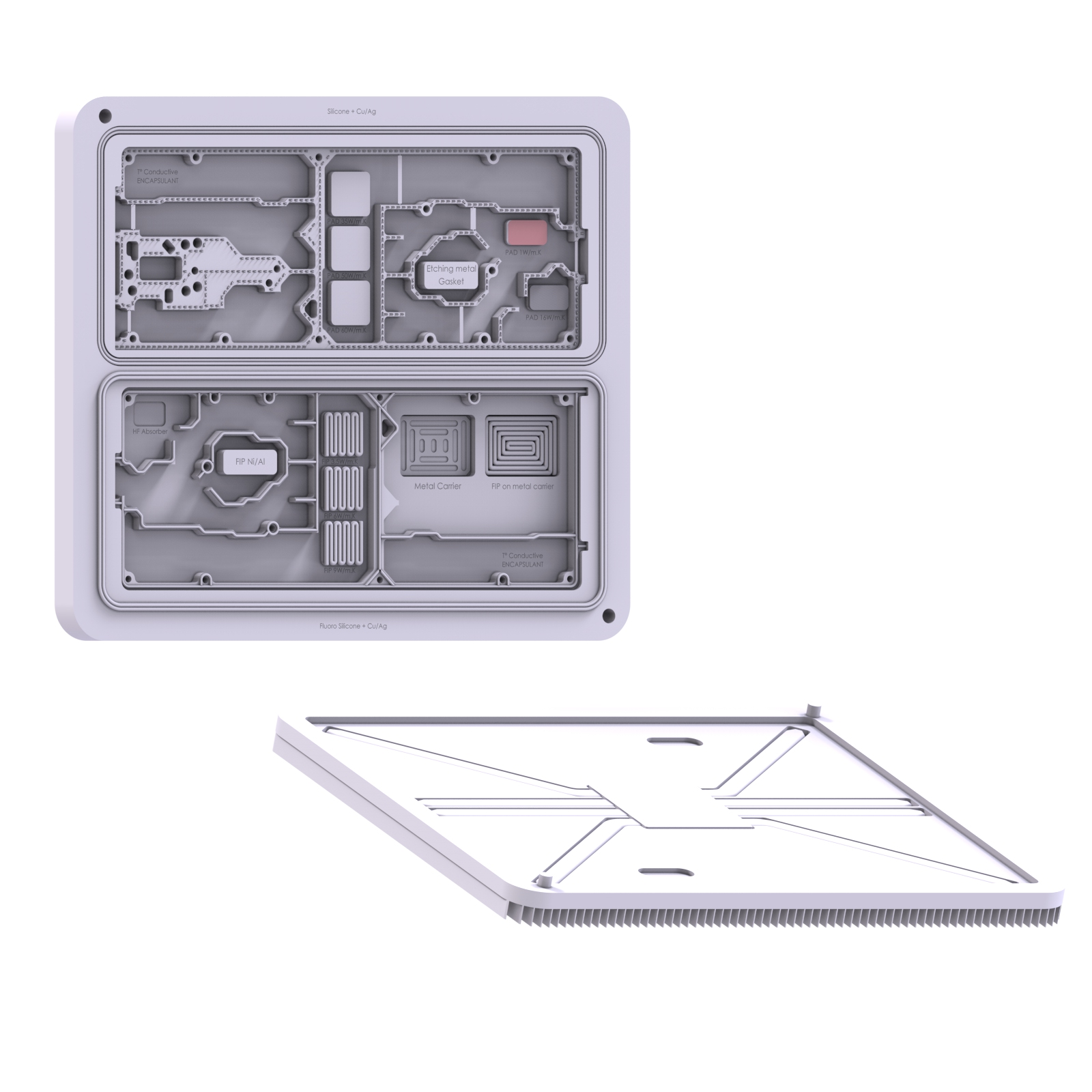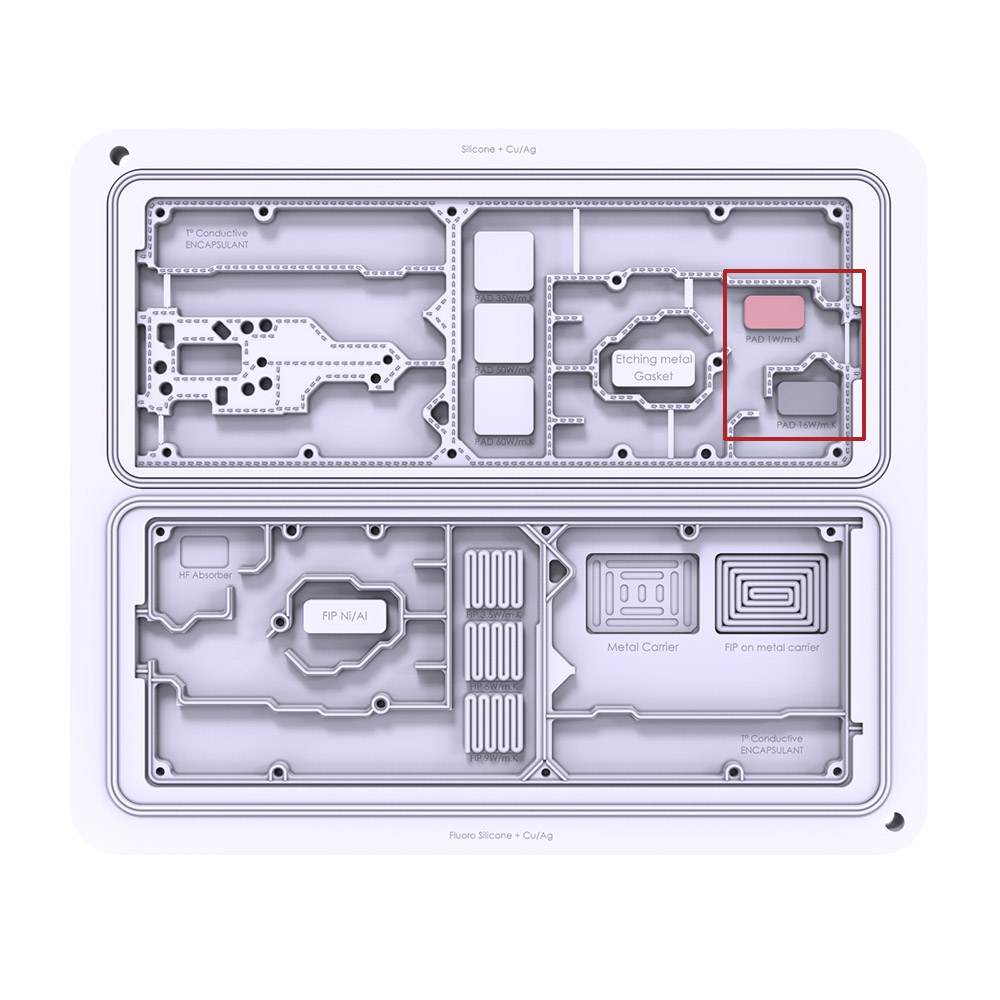 THERMAL PAD
Thermal conductivity: From 1.1 to 16W/mK
Compression @ 3mm, 60PSI: From 40 to 60%
The DG-PAD series is related to the "Thermal Interface Material", often called TIM. It is a silicone-based heat dissipation material. Because of their flexibility, these thermal interfaces fill the gap between your electronic component and your heat drainage surface, while limiting the mechanical stress on your electronic components.
We advise you on the most suitable product for your configuration, and we manufacture quickly and reproducibly the shape corresponding to your equipment.
Contact us to learn more or request a sample!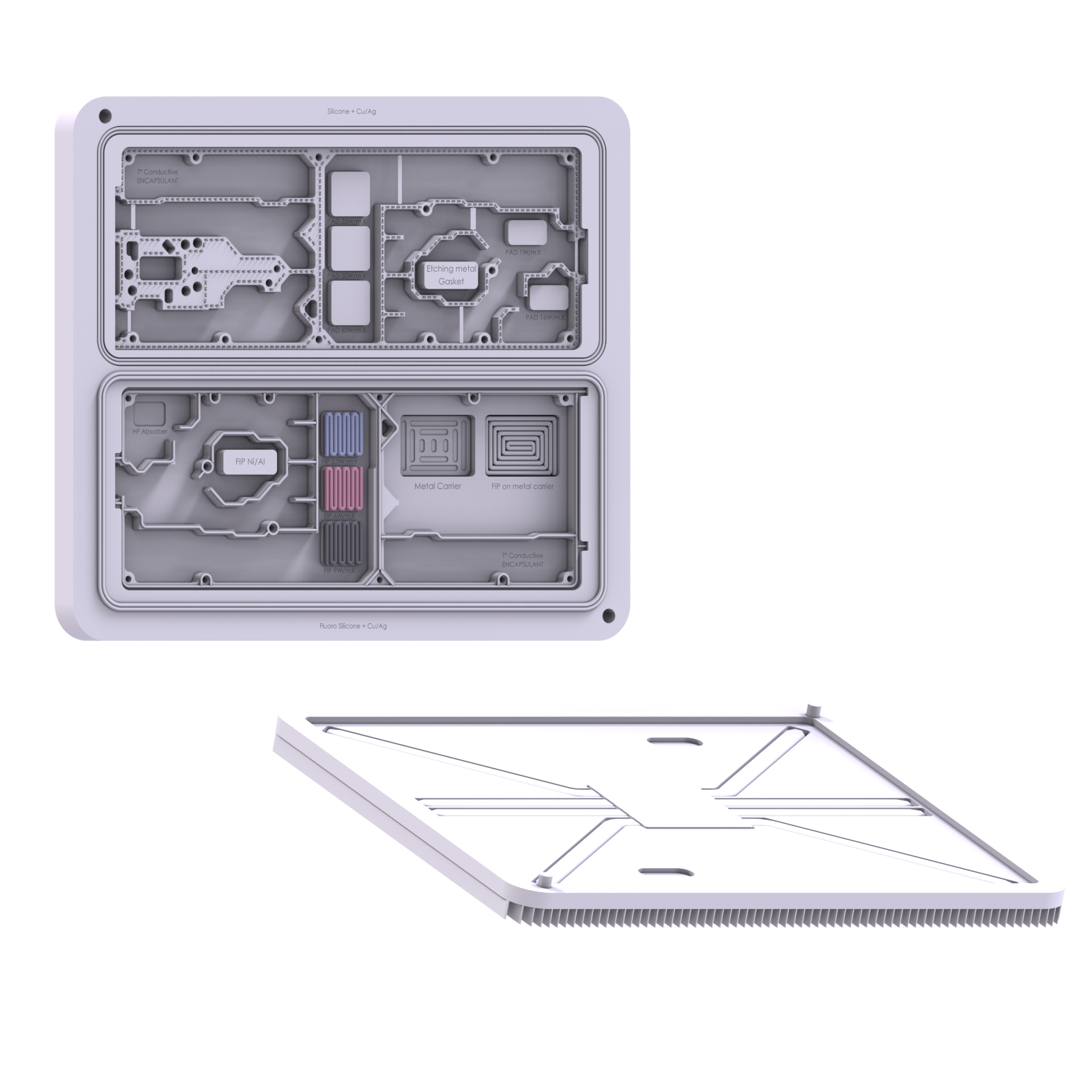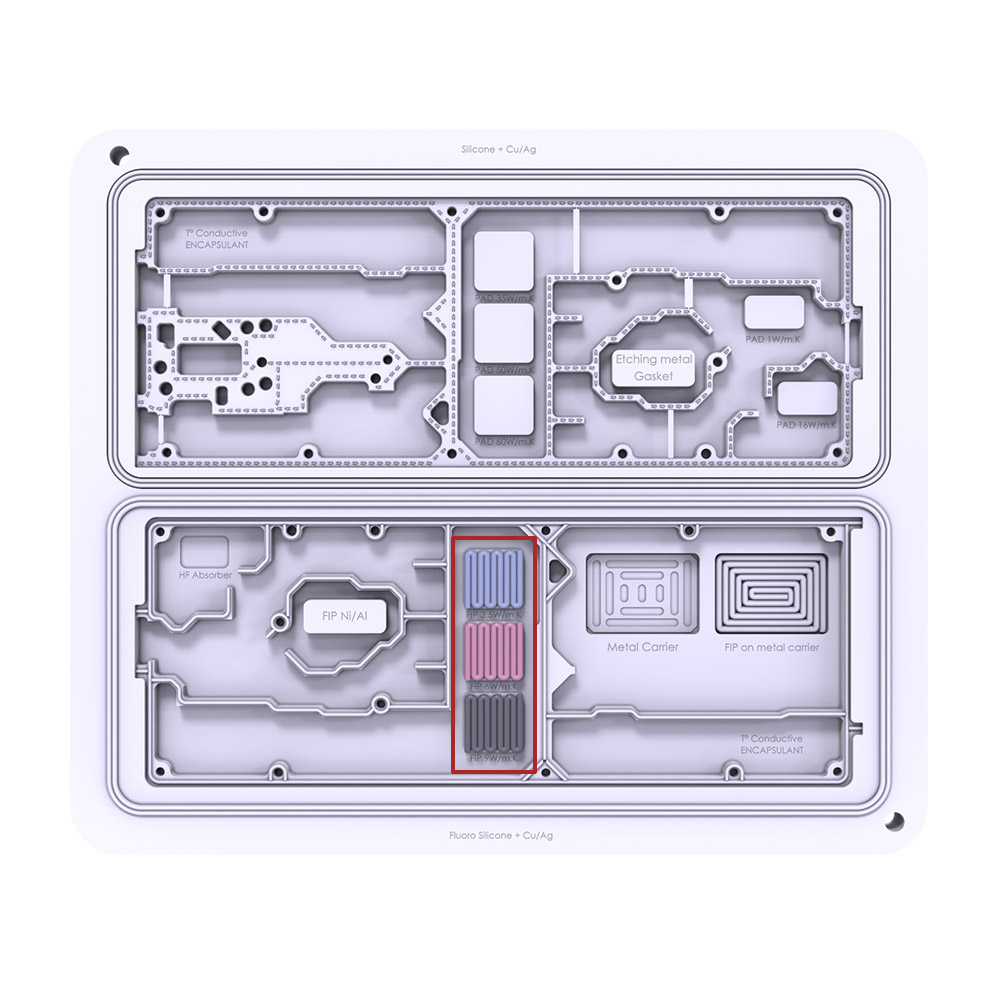 THERMAL DISPENSING FIP
Thermal conductivity: 3.5 to 9 W / mK
Thickness after removal: <0.5mm up to 5mm
DG-FIP  is a Form-In-Place heat dissipation material. Because of its flexibility, this paste fills the slightest gap between your electronic component and your heat dissipation surface without mechanical stress.
Its thermal characteristics, among the best on the market, are adapted for your most compact and powerful electronic designs.
We also realize the delivery of our paste on your cards or mechanics. We can also manufacture your mechanics to optimize your supply chain.
Consult us!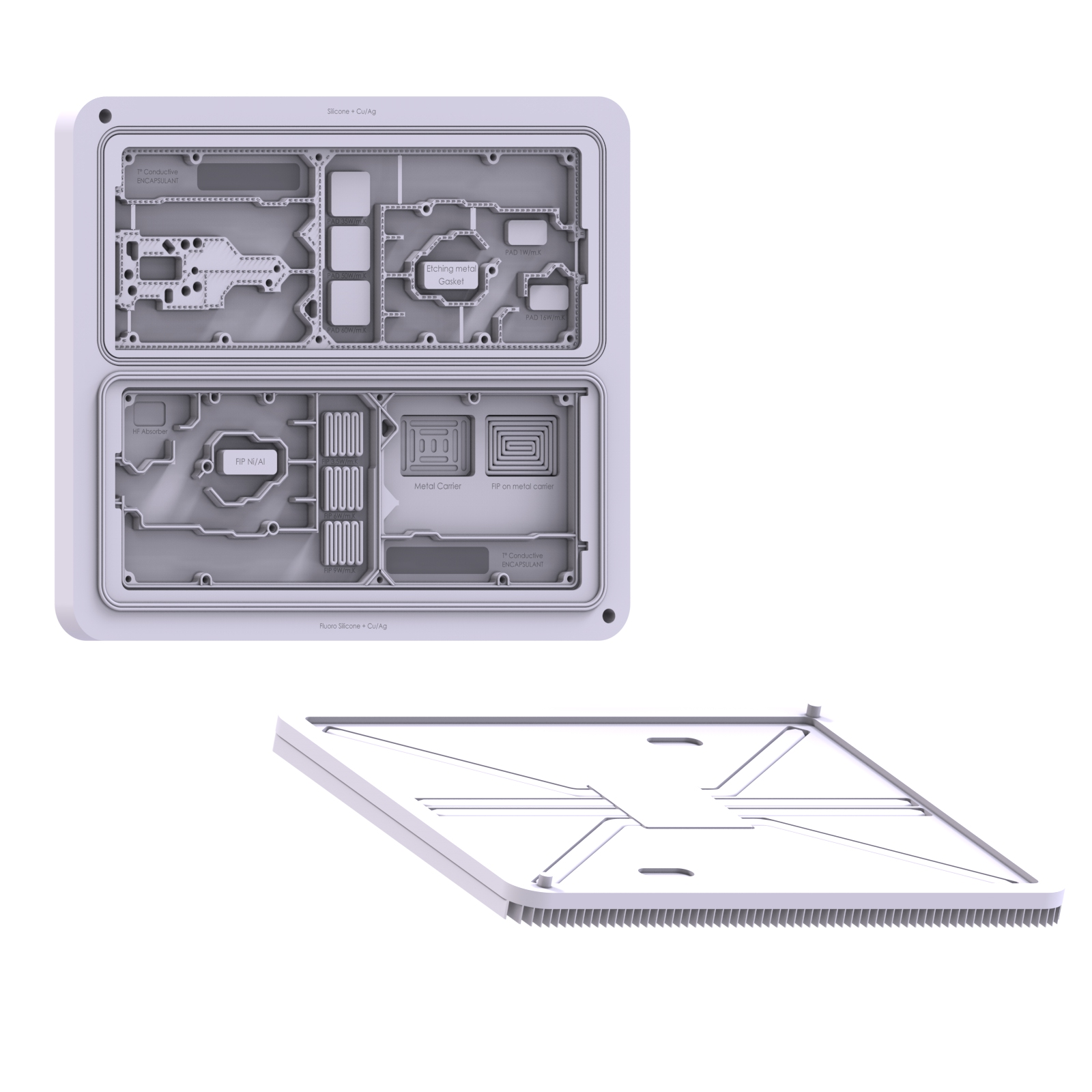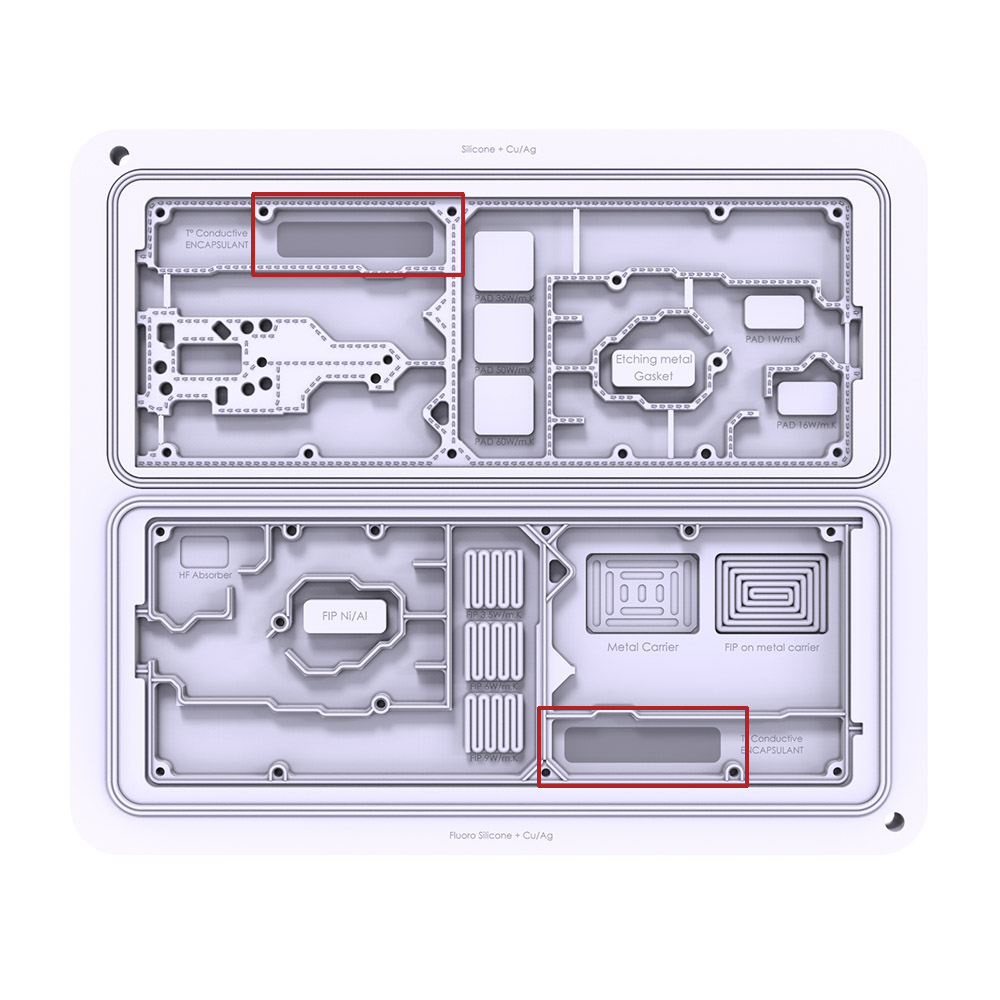 THERMALLY CONDUCTIVE POTTING
Thermal conductivity: 1 to 2 W/mK
Hardness after polymerization: 80 shore 00
As a real alternative to Epoxy, our DG-TCSE series is a two-component sealant thermal conductive silicone. Its density, lower than epoxy, makes it a very interesting choice in applications where lightness is a technical argument.
Contact us to learn more or request a sample!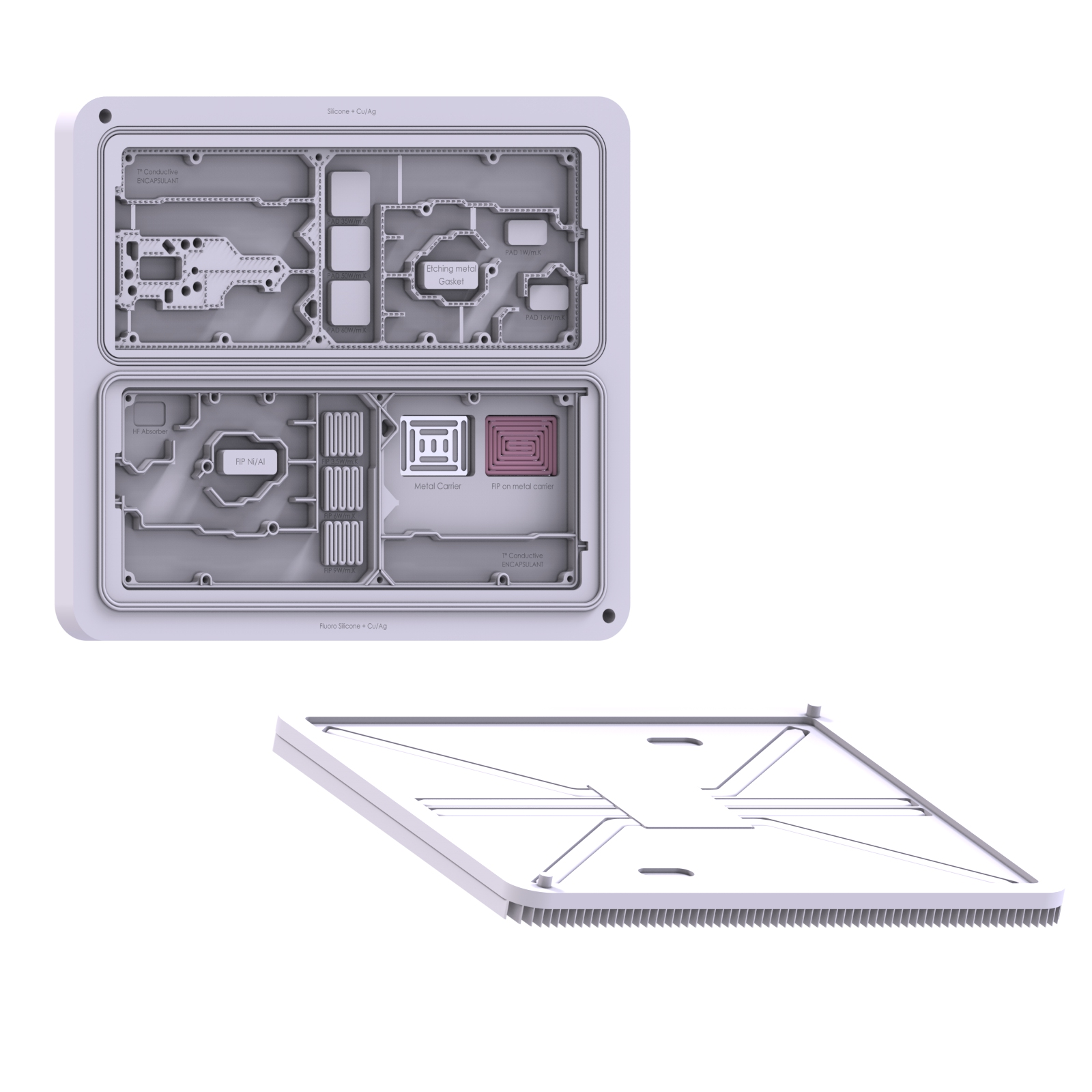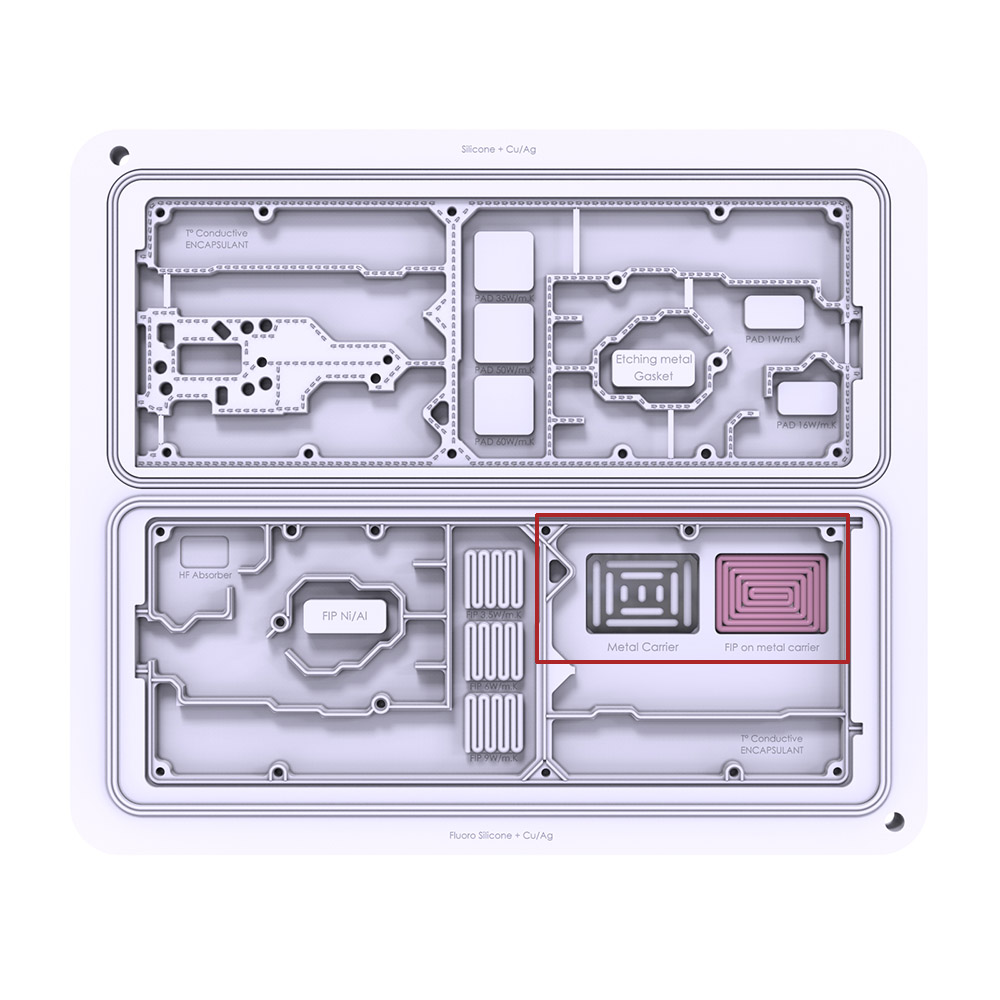 STAMPING
What we call "Stamping" is the process of stamping thin sheets of metal using a press of several tens or hundreds of tons, to obtain a piece cut flat or a geometry in 3D shape.
Very widely used for manufacturing metal grounding contacts in the field of connectivity, this process makes it possible to manufacture very large volumes of parts at competitive prices.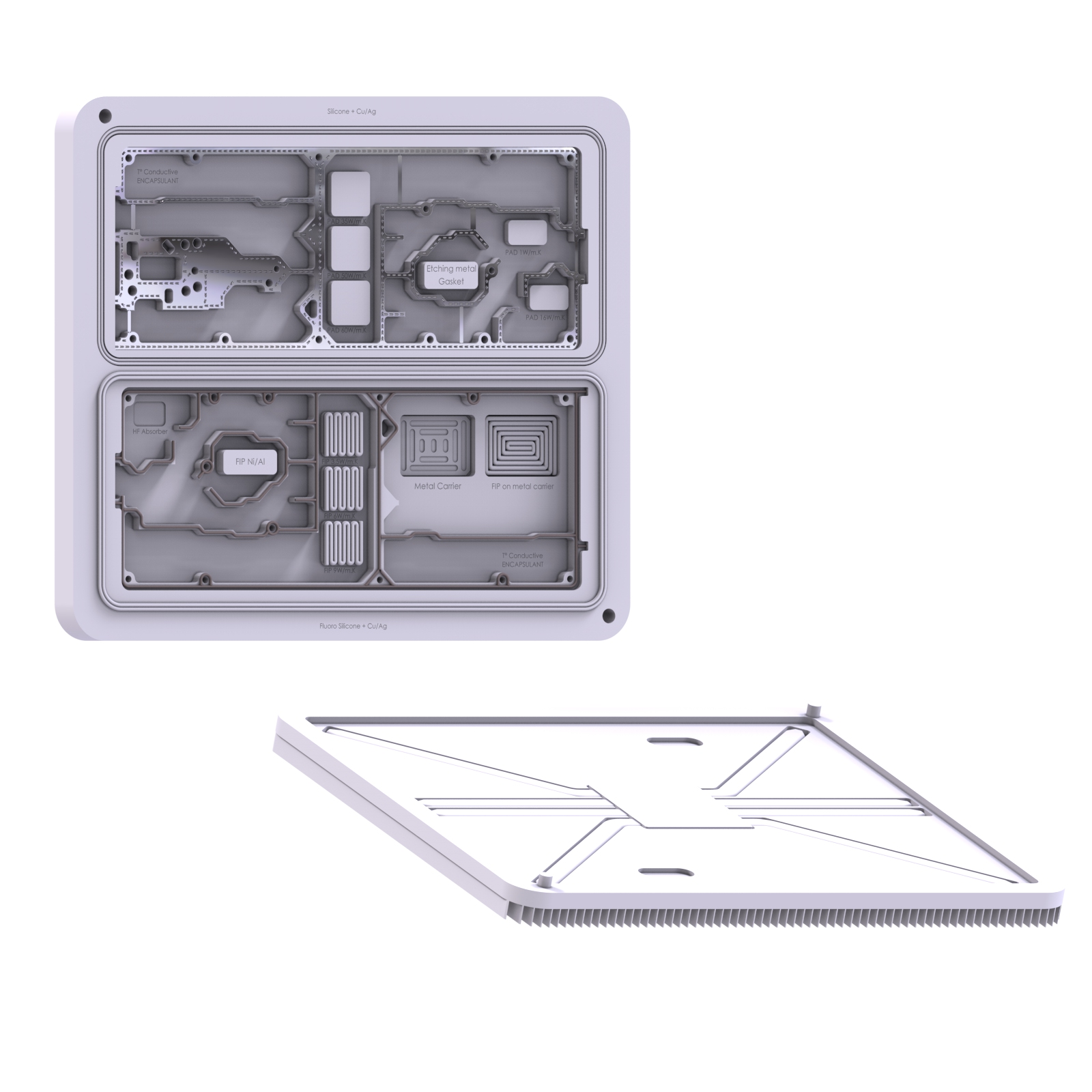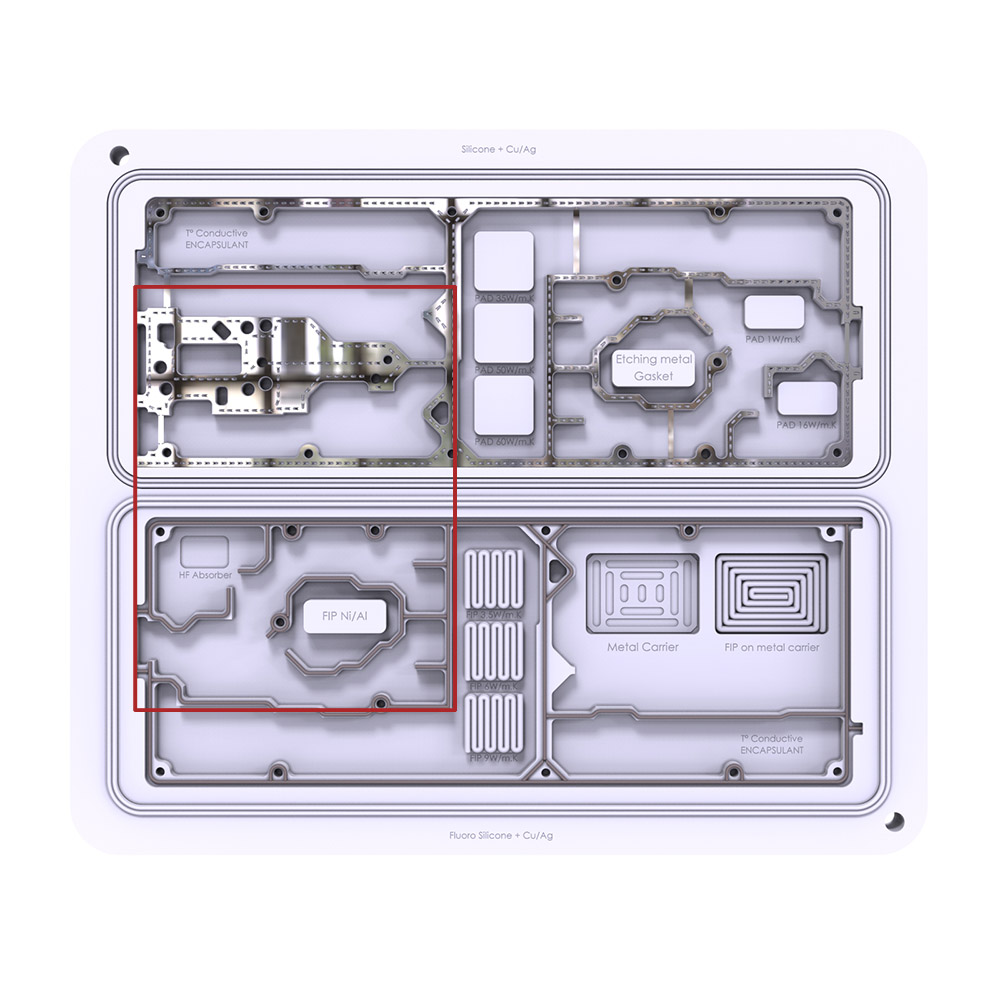 METAL / FIP GASKET
Mechanical compensation in height: 0.8 mm
Shielding: 90 dB
As soon as an EMI shielding gasket in your equipment is required between your mechanical cavities, you are facing 2 alternatives solutions: FIP-deposited gasket or metal gasket? We master both technologies and their respective advantages.
Tell us about your project and we will help you design and implement the most suitable solution.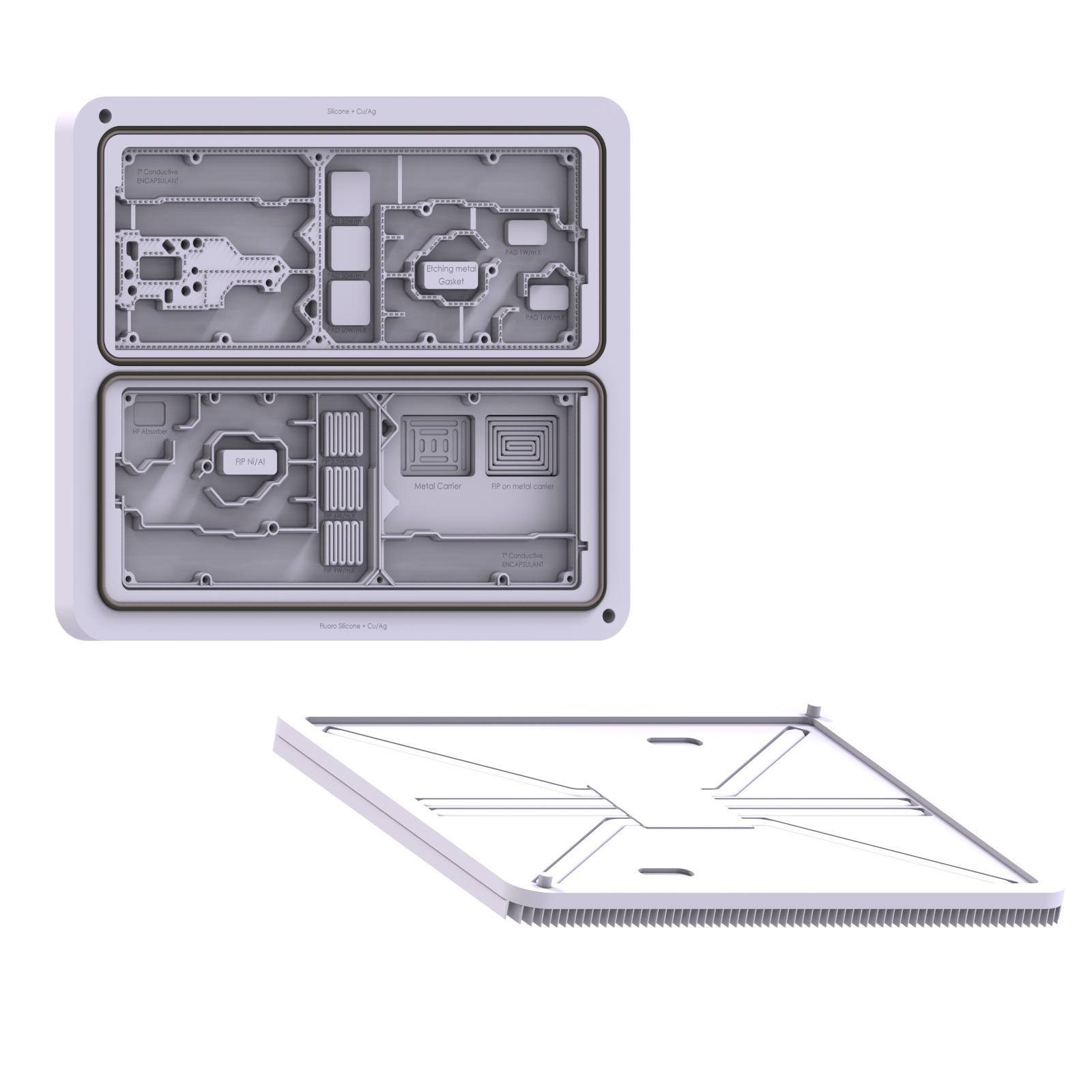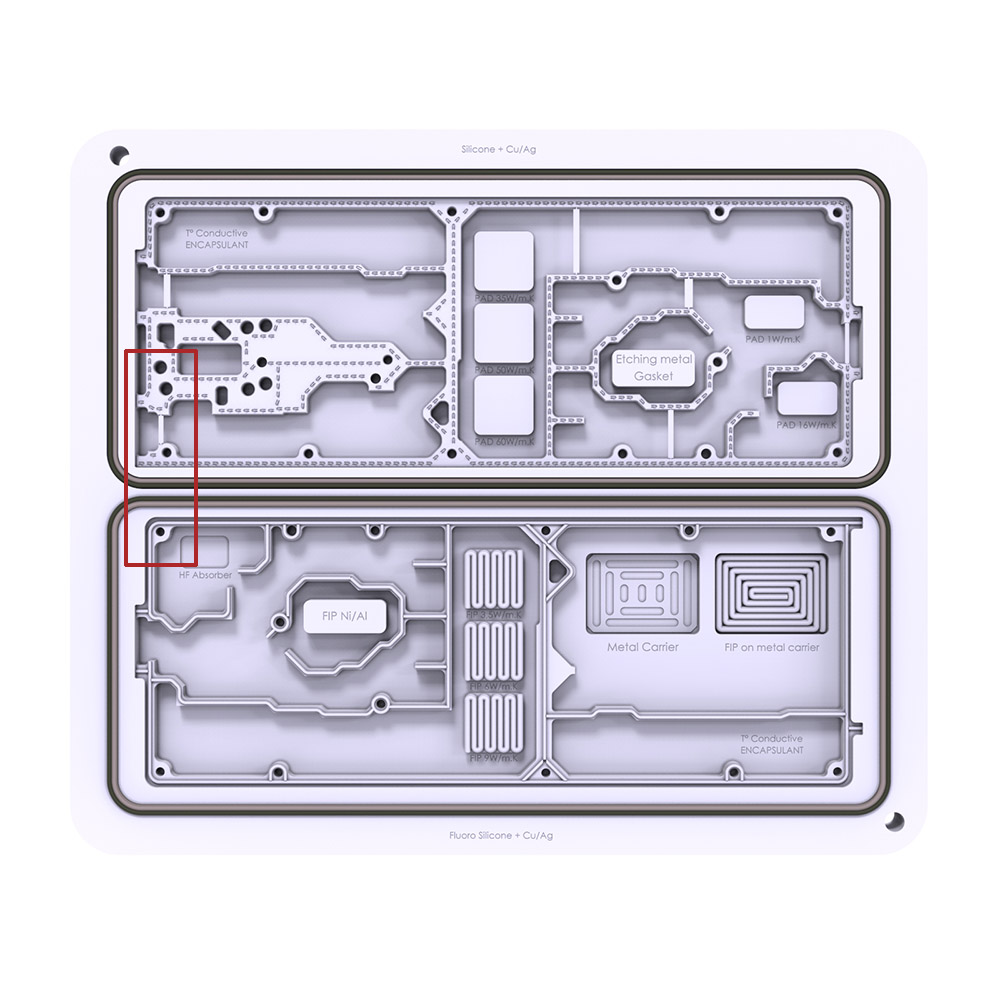 dB-TWIN GASKET
Particles: Ag / Al; Ni / Al; Ag / Cu; Ag / glass
Shielding Efficiency (dB): 80 to 110 dB
Hardness (Shore A): 50 to 70 shore A
DB-TWIN conductive gaskets are coextruded gaskets. They are designed to fulfill the IP function and the EMI function in a single product, which improves the footprint and minimizes the cost of the IP and EMI functions in your design.
We adapt the profile of these gaskets to your mechanics for an optimal efficiency.
Their design allows efficient use in severe environments (salt spray, hydrocarbons …)
Contact us to learn more or request a sample!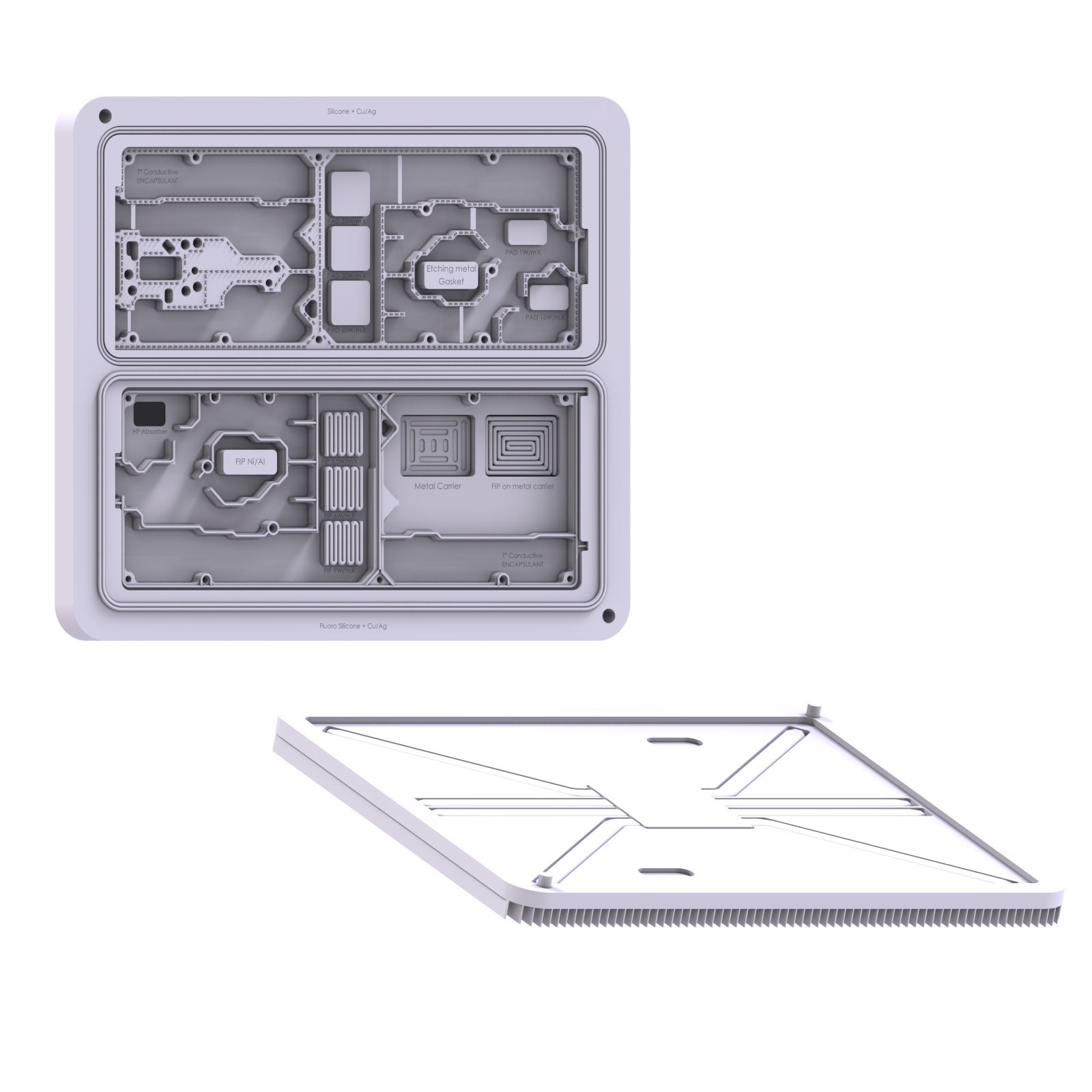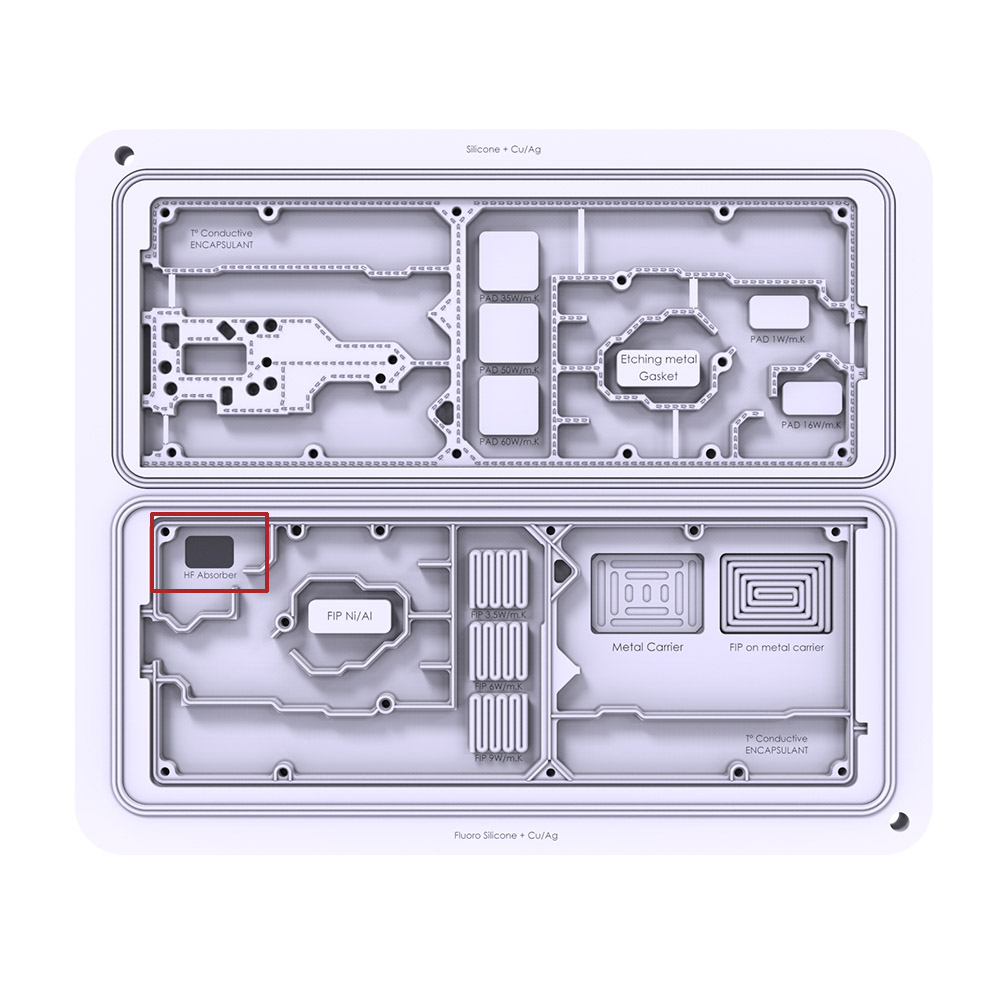 EMI ABSORBER
Frequency (GHz): 1 to 35
Reflectivity (dB): 10 to 17 ~ 20
Our range of DB-ABS-N absorbers, Neoprene base, is specifically tuned for attenuation on a narrow band frequency range. This makes it more efficient in terms of signal intensity and environmental resistance.
Other ranges exist (RFID, etc …)
Contact us!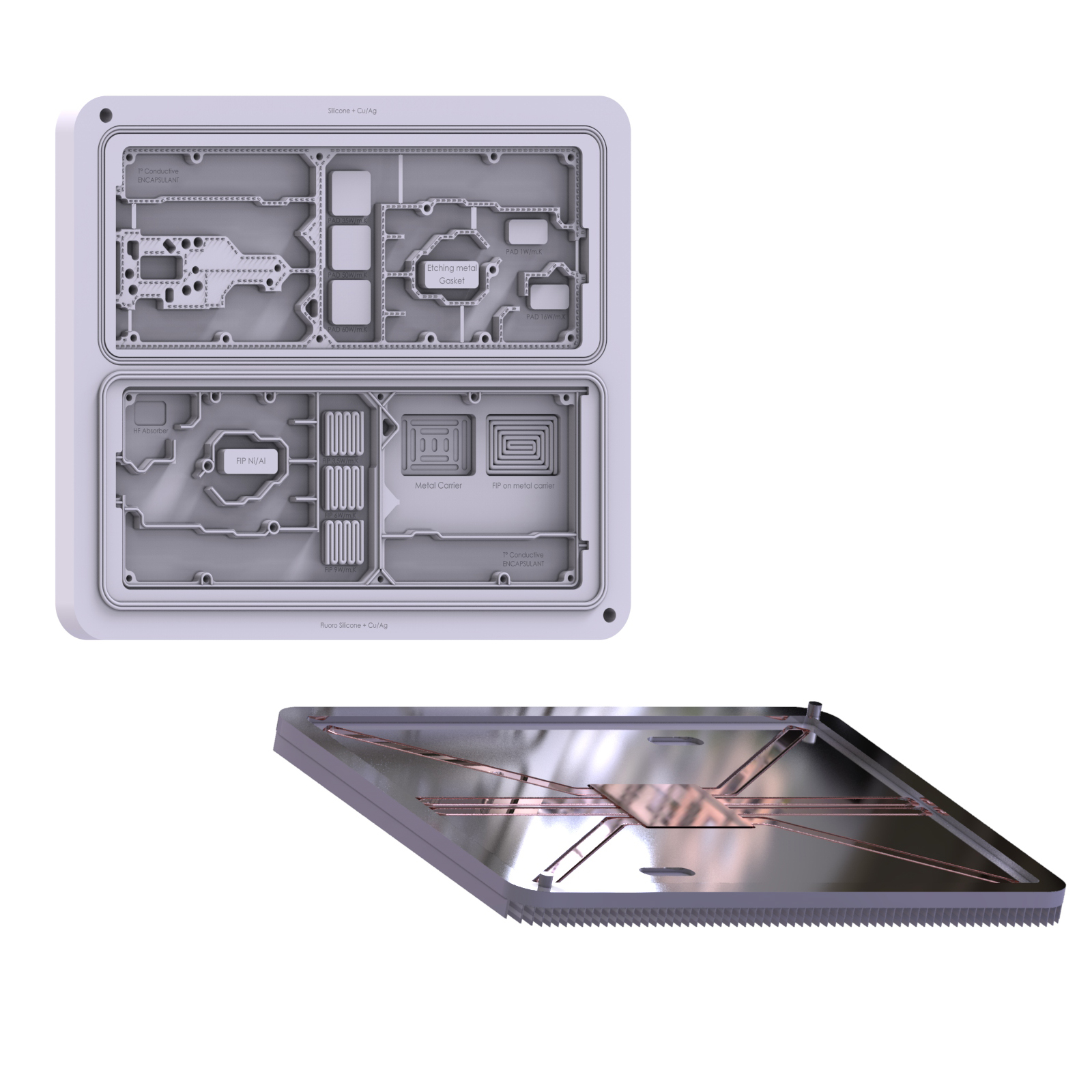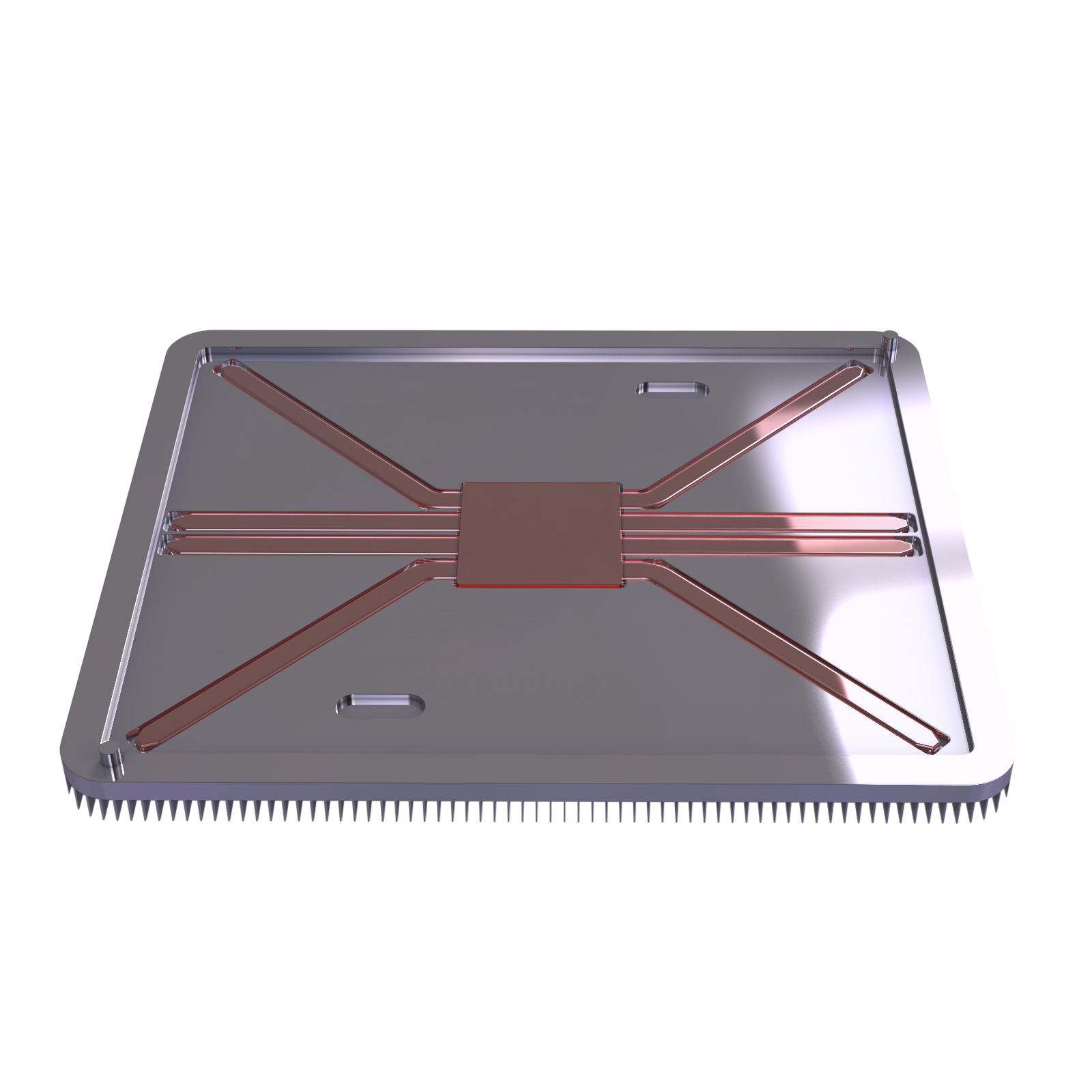 HEAT PIPE
Envelope materials: Cu, Al, Inox
Internal structure: mesh, fiber, sintering, grooving
The heat pipe is a heat transfer device that combines the principles of thermal conductivity and phase transition to efficiently transfer heat between two solid interfaces. It has a high thermal conductivity, it is 100 to 1000 times more efficient than a copper tube.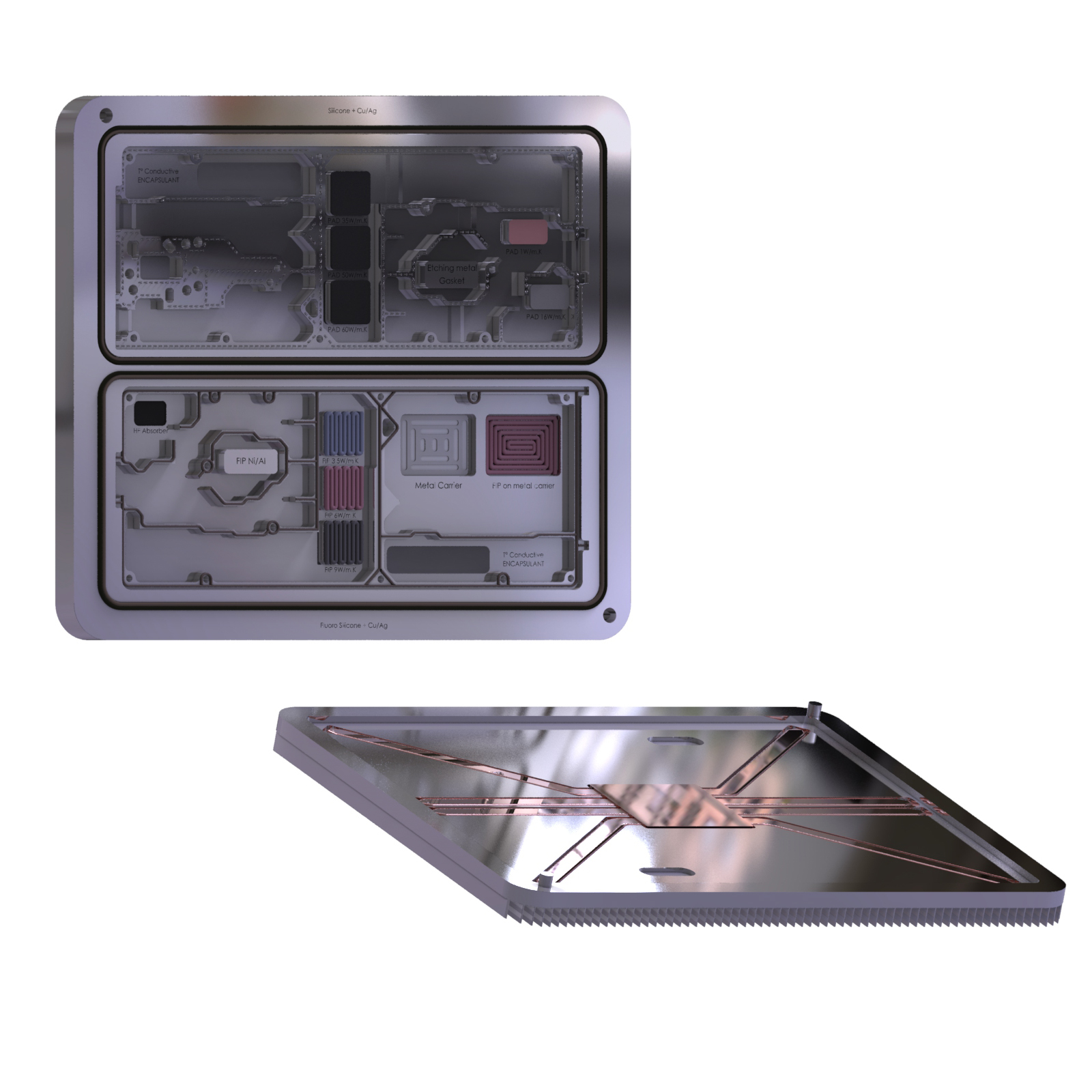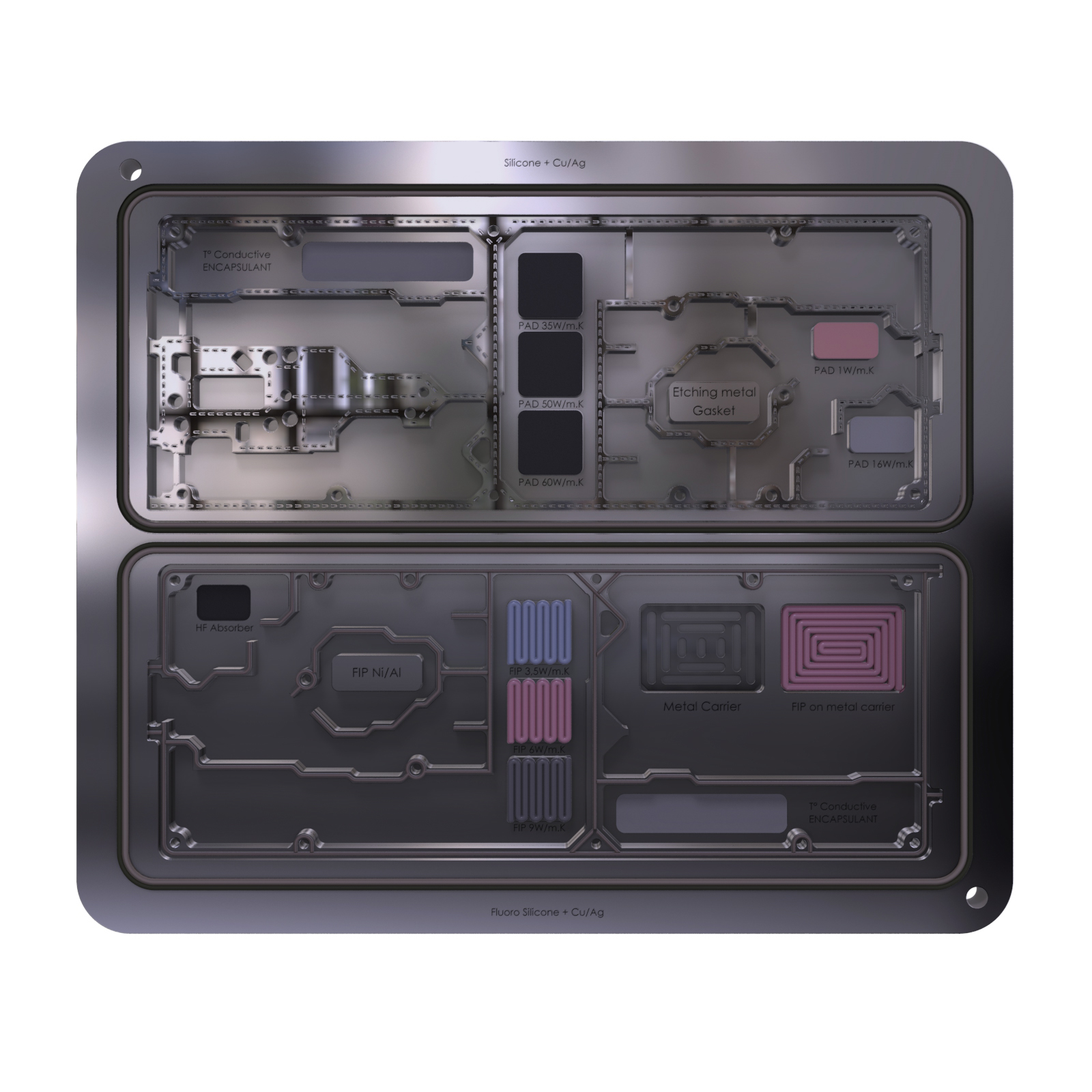 CNC
Machining tolerances: from +/- 0.125mm to +/- 0.025mm
Finishing: SurTec, Anodizing, Silver
Your mechanics do not only contain your PCB boards: they also help to fulfill the function of heat dissipation and / or electromagnetic shielding. We realize the machining of your Aluminum or Copper parts on 3/5/8 axes CNC machines, based on your 3D drawings. In addition, we assemble on it our EMI, IP and thermal components on request.
For more information contact us.
Your needs


We are here to meet your specific needs for a whole EMI and Thermal Solutions
Conception
A unique and personalized customer support to design the right solution for your existing environment.
Modeling
A quick realization of our solution on 2D and 3D drawings, for a good virtual integration in your equipment.
Prototyping
A rapid production of initial samples for validation.
Industrialization
A manufacturing and a delivery of parts and subassemblies throughout the life of your project, whatever your geographical location.
Our Assets


A sense of service made of excellence and agility
Efficiency
We understand your needs and their constraints. We have this global vision, composed with economic, technical and quality, which makes us your "unique contact ", flexible and responsive in the proposals and decision-making.
Reliability
Our in-process controls, the duplication of our production lines and sites, and the certification of our ISO 9001, 14001 and TS16949 production plants make us a reliable partner.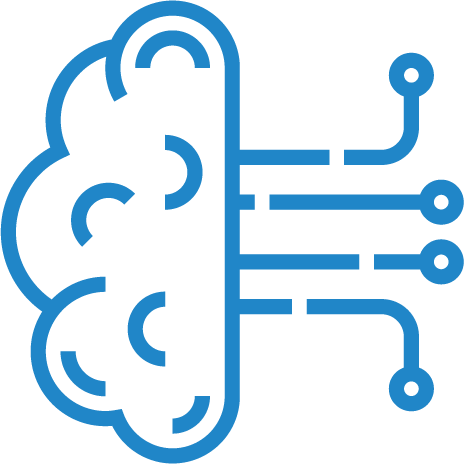 Relevance
We offer you the most adapted solutions to your problems, thanks to both our 25 years of expertise and the wideness of our product range.
Performance
Our range is focused on EMI and Thermal Management. It covers a wide choice, from the competitive component to the premium product with its exceptional performance.
Sustainability
With dB & DEGREES, you are certain to choose a product that will remain available throughout your program and its service period. No untimely 'catalog deletion' during the program.
We are at your disposal to carry out your projects.
A project ? A question ?
Your Environment


Answers to your problem